2″ Standing Seam Panels
Hi-Performance Metal Roofing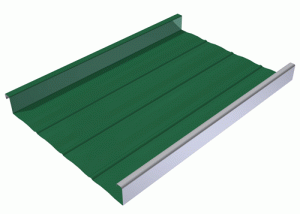 AMSI offers 2″ mechanically seamed roof panels designed for a wide variety of applications in the commercial, institutional and military construction markets.
We manufacture:
AMS-200 Our own 2″ mechanical seam panel. This panel is economically priced but has limeted test data available and should only be used where performance criteria is limited.
Tite-Loc Plus: Manufactured under license from Petersen Aluminum (Pac-Clad), our Tite-Loc Plus roof panel is Miami-Dade County approved. Our Miami-Dade NOA is: 13-1126.10. This panel is also is also Florida Building Code Approved, FBC Certificate of Approval Number is FL16832. This panel has been extensively tested and is appropriate for use anywhere a high performance roof panel system is required.
Use our Environmental Smart Color Chart to choose the best color roof panel for your application
See who is using our panels below