Dektite High-Quality Pipe Boots for Metal Roof Longevity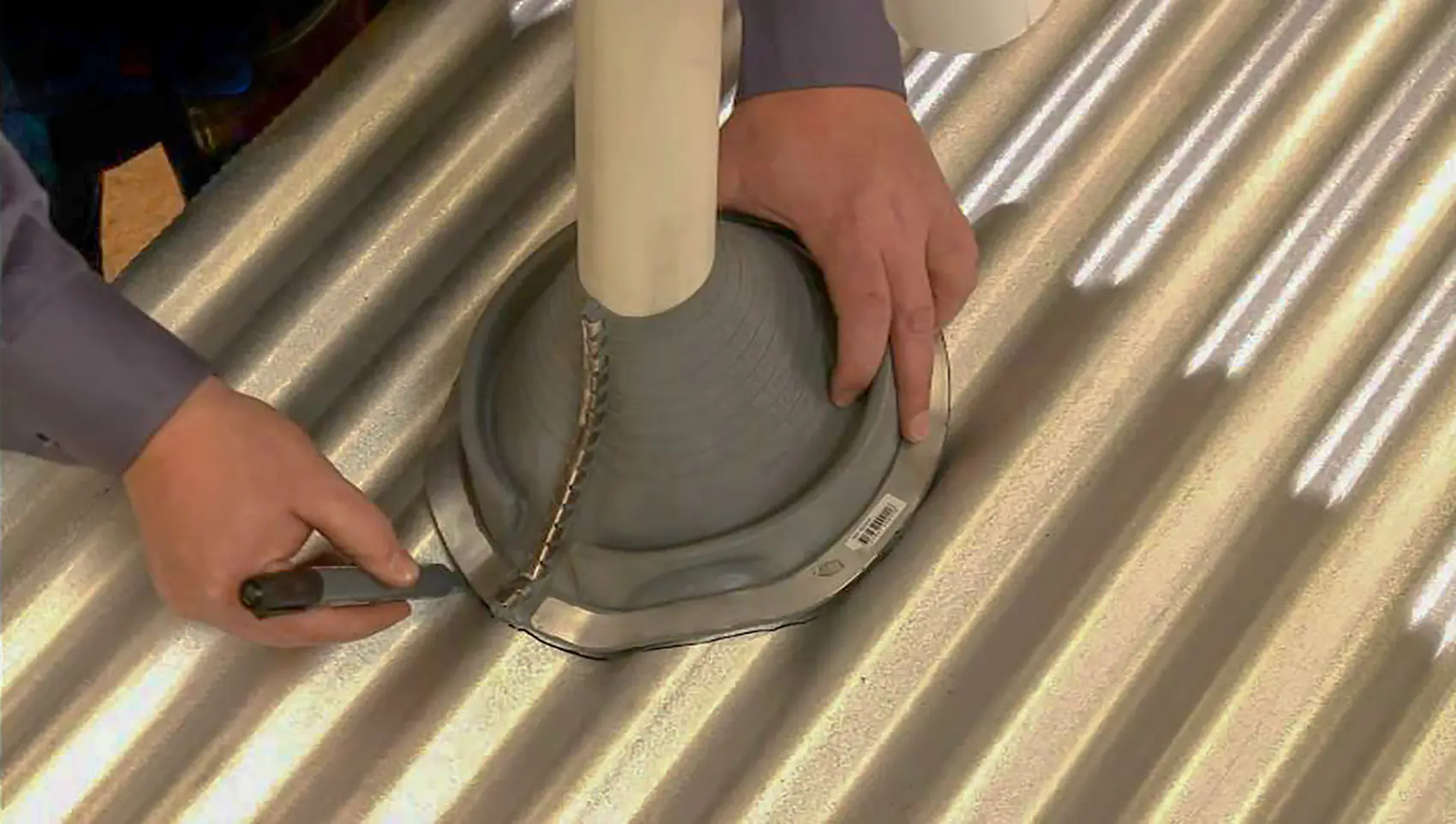 It can be hard to determine which type of pipe boot is right for your standing seam metal roof project with so many different types of pipe boots out there. Even once you've determined which type of pipe boot you need you will still face the difficult decision of which brand delivers top quality at a reasonable price.
Thankfully, you've come to the right place! This article will explain the different types of traditional plumbing boots out there and why Deks has the best pipe boots for your metal roof's longevity.
Types of Pipe Boots
Before we get into all the types of pipe boots available, let's establish some basic definitions and terminology. Pipe boots are used to secure pipe penetrations to a roof's surface for plumbing, ventilation, and to prevent leakage. Sometimes you will hear pipe boots being called pipe flashings or plumbing boots, but they are the same thing.
Pipe flashings can be made of different materials depending on the roof's profile. Here are some types and brands of traditional plumbing boots:
Quarrix Pipe Boot- a traditional all-steel boot that is best for shingle roofs.
Life Time Tool Boots- silicone boot flashings that are best for shingle roofs. 
Perma-Boots- taller boot flashings for shingle roofs made of TPO plastic.
Bullet Boots- taller boots made of TPE plastic for shingle roofs.
While there is a variety of pipe boots out there rubber is the best material to use for standing seam metal roofs. A rubber plumbing vent boot is super flexible and it won't crack, even under intense weather conditions. Deks offers various different rubber pipe boots depending on the size of the pipe, the metal roof's panel profile, and the weather conditions in the area.
A proper metal roof pipe flashing is made of an EPDM rubber with a bonded aluminum band at the base boot that will form a compression seal. Other types of roof flashings that are made with materials like lead and copper have a much shorter life span and can corrode the metal roof system.
Why Choose Dekite Pipe Boots?
Deks started creating high-quality Dekite pipe boots in Australia in 1947. Mr. George Culpit began the rubber plumbing vent pipe boot revolution in Australia as a family business before expanding to over 30 countries in 2003. Today, Deks is one of the top suppliers for pipe boots because of their proven quality that guarantees metal roof longevity.
Deks' Dekite pipe boots come in nine different base boot sizes from 1/4" to 19" in diameter and they also show the sizing in millimeters for easy snipping. You can get Deks' high-quality pipe flashings in orange silicone for high-temperature applications or original boot flashing in black and grey EPDM. An EPDM rubber boot can withstand temperatures of up to 212 degrees Fahrenheit. If your metal roof deck will be exposed to higher temperatures, you should choose the orange high-heat silicone-based plumbing vent boot that can generally withstand up to 437 degrees Fahrenheit.
Installing a Dekite Pipe Boot to a Standing Seam Metal Roof
To install a Dekite pipe boot to a standing seam metal roof, you should begin by choosing a flexible boot that fits the size of the pipe penetration and is made to withstand the weather conditions in the area. Once you have your Deks' Dekite flashing picked out, you should purchase butyl tape and caulk sealants.
For pipe boot best practices, begin by cleaning the pipe penetration and chiseling off built-up tar or debris. For a cleaner aesthetic, you can cover the pipe with a pipe sleeve which will also help to prevent rust leakage onto the metal roof panels that will damage the roof. Next, you should cut the rubber boot flashing to fit the diameter of the pipe snuggly.
Line the base of the boot with butyl tape and use a caulking gun to draw a bead of caulk sealant onto the pipe shaft where the top of the flashing will seal to the pipe. Slide the pipe boot down the shaft of the pipe penetration and press down on the base to secure the sealant. A thin line of the butyl tape should be peaking out of the boot's base where it meets the metal roof panel. Finally, use drilling fasteners to make that final seal, but don't push down too far.
If you installed and sealed the pipe boot correctly, your roof will be protected from leaks and damage. Dek's high-quality Dekite pipe boots are built to last for the entirety of the standing seam metal roof's lifespan which is fifty years or more.
If you are a roofing contractor in search of a top-quality flashing for your standing seam metal roof project, then look no further. AMSI carries every type of Dek's Dekite boot flashing for your needs.
Check out our Pipe Boots and Contact Us for assistance.