VersaBracket
Mount Almost Anything to an Exposed-Fastened Roof System!
VersaBracket™ can be used to mount virtually anything to an exposed-fastened roof system and is compatible with almost any trapezoidal, exposed-fastened profile. No messy sealants to apply! No chance for leaks! The VersaBracket™ comes with factory-applied sealant already in the base for a water-tight attachment.
VersaBracket™ is so strong, it will even support heavy-duty applications like snow retention. For exposed-fastened, trapezoidal profiles, the VersaBracket™ is the perfect match for our ColorGard® snow retention systems (For corrugated roofs use CorruBracket™). VersaBracket™ is extremely economical and facilitates quick and easy installation.
Each VersaBracket™ comes with factory-applied butyl sealant in the base. A structural aluminum attachment bracket, VersaBracket™ is compatible with most common metal roofing materials.
The VersaBracket™ has been tested extensively on a wide variety of applications. To view test data, click here. Note: This link will take you to S-5!'s website.
Use with ColorGard
The ColorGard® Crossmember simply fastens to the VersaBracket™ with self-drilling screws (not included). Select a pre-painted metal color strip of your choice or simply use ColorGard without a color strip. With or without the color strip, ColorGard provides functional protection with a great look! More info on ColorGard here.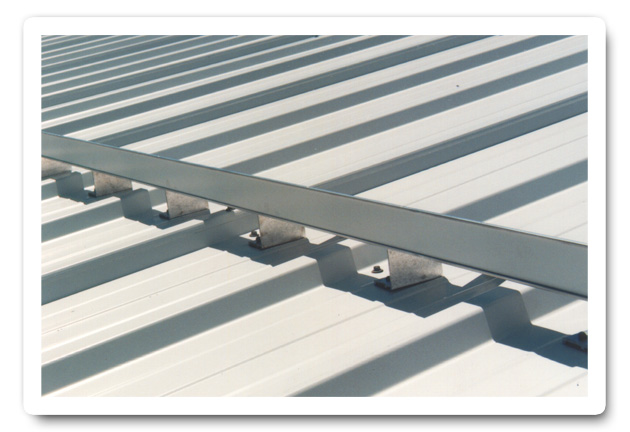 The VB-67 mounting face has no holes or slots, thus, ancillary items are typically secured using self-tapping screws (not included). The VB-47 offers various mounting face configurations with its pre-slotted top.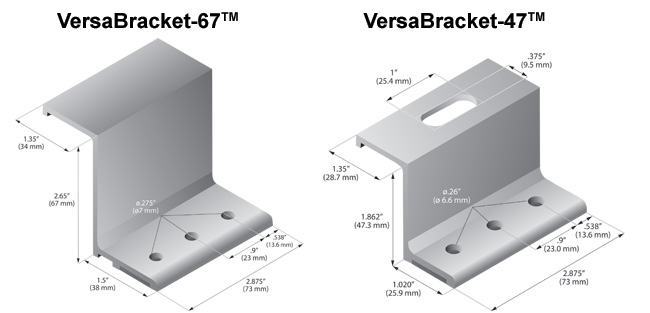 Installation
VersaBracket™ is mounted in the flat of the panel, directly into the supporting structure of the roof, i.e. wood decking, wood or steel purlins or trusses. No surface preparation is necessary; simply wipe away excess oil and debris, peel the release paper from the base, align and apply. Secure through the pre-punched holes using the appropriate screws (not included) for the supporting structure.