The Importance of High-Quality Fasteners for Standing Seam Metal Roofing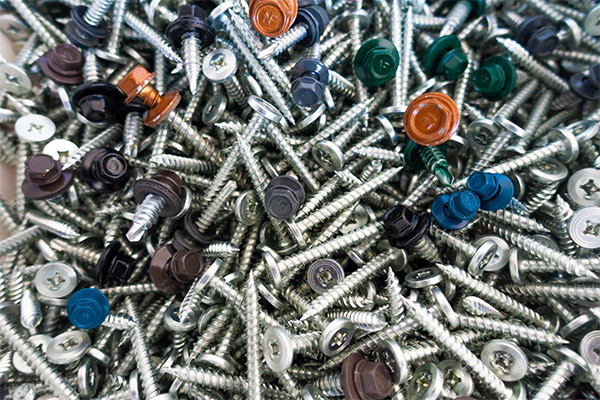 Ensuring that you have the highest-quality fasteners for your metal roofing projects should be at the top of your priority list. High-quality fasteners are essential to provide superior protection along with long lifespans to your projects. Not only do they provide strength to hold metal roofing systems in place against wind uplift, but also help keep a watertight connection between metal sheets.
With the impact of climate change becoming more prevalent, it is crucial to construct robust and durable structures using high-quality materials to minimize the risk of damage from extreme weather events. Determining the ideal fastening system for each project is crucial; read on to learn more about the significance of top-notch fasteners in metal roofing.
Why do High-Quality Fasteners Matter?
High-quality fasteners play a critical role in metal roofing, as they ensure that the structure is securely attached to its substrate. Without fasteners in place, each metal roofing panel may slip or slide, causing major structural damage. High-quality fasteners are also essential for preventing wind and water from entering the structure and creating expensive repair costs in the long run.
Moreover, high-quality fastening materials come with warranties that guarantee their longevity and stability for a number of years – offering high levels of peace of mind for property owners.
While high-quality fastening systems can require a significant investment, several manufacturers specialize in producing high-grade products at competitive prices, providing homeowners with the assurance of using top-notch materials.
The Role of Fasteners in Standing Seam Metal Roofing
The role of fasteners in metal roofing is essential for both structural integrity and visual impact. As metal roofing involves high winds, high rains, and high exposure to sunlight, high-quality fasteners are necessary to ensure the safety and quality of the materials used.
There are several different types of fasteners used in metal roofing projects such as:
Self-drilling screws

High-strength bolts

Lag screws

Hammer drive anchors
And much more, which all offer specific benefits depending on their type and where they're applied.
Before choosing any particular type of fasteners for a project, one must consider factors such as corrosion resistance, temperature resistance, load requirements, longevity & sustainability, and exposed surfaces being high-strength areas working together to promote weather tightness; just to name a few. Choosing the right type of fastener for the specific project ensures safe installation while allowing high performance over time.
Investing in high-quality fasteners will pay dividends in the long run by eliminating potential headaches with improperly installed metal roofing systems due to low-quality material.
The Advantages of Top-Quality Fasteners for Metal Roofs
For long-lasting standing seam metal roofs, high-quality fasteners are a must. Compared to lower-grade fasteners, high-grade fasteners have higher levels of strength and improved corrosion resistance, meaning they are robust and durable and can resist wear and tear better over time. Quality fasteners also help to ensure that roof installations last longer than if poorer quality fasteners were used instead.
The improved longevity of high-quality fasteners makes them a cost-efficient option since the need for replacement will be reduced. With high-grade fasteners in place, metal roofs can be expected to have greater longevity and durability. Furthermore, high-quality fasteners add a stylish touch to the roof since they come in a variety of colors, styles, and sizes. By choosing high-quality fastener solutions that are aesthetically pleasing as well as effective at keeping the roof secure, you can make sure your metal roof looks great for years to come.
Read more: The Anatomy of Metal Roofing Fasteners & Screws
How to Choose The Right Fasteners for Your Metal Roof Project
Installing high-quality fasteners is an essential component for the successful completion of any metal roofing project. To choose high-quality fasteners, you must take into consideration multiple factors such as material quality, length, shape, and intended purpose.
Materials with high corrosion resistance ratings, such as pot metal, stainless steel, or even galvanized finishes should be prioritized over more common materials like aluminum.
You should also look for fasteners with a weather-tight warranty to protect against bad weather conditions that leave the roof vulnerable to damage or at risk for leaks.
Additionally, while too short of a fastener can render installation ineffective, overly long ones can create obstructions in the metal panel and create problems with fitment. With a wide variety of shapes, lengths, and strengths available on the market today, understanding which type of fastener is best for your particular job is critical for proper installation.
Finally, you should always check your local building codes to ensure that your chosen fastener profiles meet all regulatory requirements prior to beginning your project. When combined with quality tools and expert craftsmanship high-quality fasteners will give you peace of mind knowing that you have chosen the best means to keep your metal roofing project secure for years to come.
Read more: How to Attach Metal Roof Panels: The Step-by-Step Guide
High-quality fasteners are an essential part of any metal roofing system. Utilizing high-grade fasteners helps to ensure structural integrity, as well as durability while preventing leaks and other damage due to degrading components.
Investing in high-quality fasteners is not only a smart move but also one of the most important investments a roofing company owner can make. Investing in high-quality fasteners allows them to build roofs that will last for years to come and provide the longevity their clients need and deserve.
If you're looking for top-quality metal roofing fasteners, we've got you covered. Shop our Fasteners today!