S-5!® Utility System
The new S-5!® Utility System is the most versatile utility mounting solution for standing seam metal roofs, and is exclusively by S-5!
The Utility System enables easy attachment of almost any conceivable utility application, including: signs, banners, light fixtures, gas piping, antennas, roof walkways, HVAC equipment, lightning protection systems, condensate lines, stack/flue bracing, fascias, equipment screens, electrical conduit, antennas, cabling, and more

With a selection of three uniquely designed flanged mini clamps, the Utility System can be mounted to every major metal roof profile. The S-5-USF Mini fits 85% of U.S. standing seam profiles. The S-5-EF Mini is specifically for double-fold standing seams, while the S-5-ZF Mini fits bulb-shaped profiles.
Clamp installation is simple. Just place the flanged mini clamp on the seam and tighten the round-point setscrew.

If the metal roof profile isn't compatible with the three flanged clamps mentioned above, the Utility System can utilize the S-5-FA (flange adaptor) to quickly provide a flanged component to any of the other S-5! mini clamps, such as the S-5-N Mini for 1″ nail-strip profiles and the S-5-T Mini for T-shaped profiles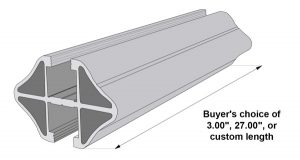 If the metal roof profile isn't compatible with the three flanged clamps mentioned above, the Utility System can utilize the S-5-FA (flange adaptor) to quickly provide a flanged component to any of the other S-5! mini clamps, such as the S-5-N Mini for 1″ nail-strip profiles and the S-5-T Mini for T-shaped profiles