CAULKING GUNS BY MALCO
Malco Products, Inc., headquartered in Annandale, Minnesota, USA, was founded in 1950 and was a pioneer with its innovative specialty hand tools for the HVAC trade. Today Malco is the nation's largest manufacturer of "tools for the trade" for this industry. Beginning in 1975, Malco created a speacilty tool market for the roofing, siding and gutter industry.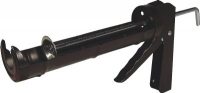 ---
Malco Economy Caulk Gun
An all purpose caulk gun at a disposable price
Uses standard 1/10 gallon caulk cartridges
Read more HERE or add this item directly to your cart below
$5.60Add to cart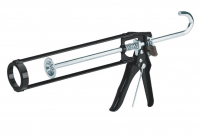 ---
Malco Value Priced Caulk Gun
Moderatley priced with a stout metal frame and handy puncture wire
Uses standard 1/10 gallon caulk catridges
Read more HERE or add this item directly to your cart below
$6.90Add to cart

CAULKING GUNS BY TAJIMA
Founded in 1909 as a manufacturer of steel tape rules, TJM Design Corporation (formerly Tajima Tool Corporation) is Japan's largest manufacturer of hand tools and owner of the Tajima brand of professional-grade tools, with production facilities in Japan, China and India. A privately owned company, TJM Design Corporation continues a tradition of excellence in the manufacturing of its tools. Excellence in design, in the selection of materials, and in the production and quality control processes. The result is a line of tools that offers exceptional features and function at a high level of quality rarely seen in today's industry.
Call for Info and Pricing

---
Tajima 1/10 Gallon Rotary Caulking Gun
360 degree rotating handle
Heat-treated and hardened steel shaft & thrust plates
Pumps even stiff and thick adhesives
Call for Info and Pricing

---
Tajima 1 Quart Rotary Caulking Gun
360 degree rotating handle
Heat-treated and hardened steel shaft & thrust plates
Pumps even stiff and thick adhesives