Not All Pipe Boots Are Created Equal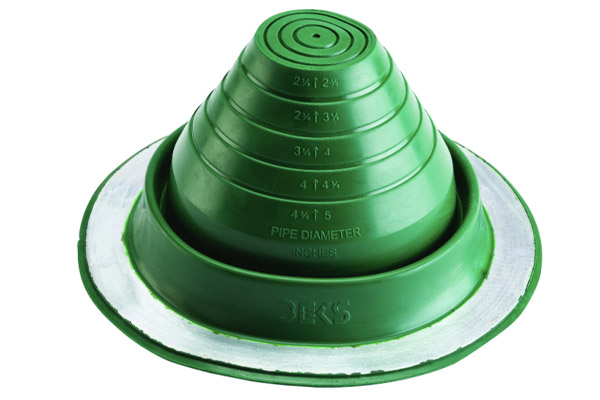 When it comes to the proper installation of metal roofing, pipe boots play a crucial role. As such, metal roofers need to make sure they're using the best possible pipe boot flashing for every project in order to ensure optimal results and protect against potentially costly damages down the line. But how can you know which pipe boot is right for your job? 
In this blog post, we'll explore precisely why not all pipe boots are created equal—and what difference high-quality materials can make when it comes time to install a lasting metal roof!
The Importance of Choosing the Right Pipe Boot
If you're in the market for roofing materials, you may be wondering why pipe boot flashings are such a big deal. These simple components play a crucial role in protecting your roof from leaks and costly water damage. Pipe boots are designed to fit around any roof penetrations—think plumbing vents, exhaust fans, HVAC units, and more. They are installed underneath the flashing material that covers the edge of the roofing panel. They act as a cushion against water penetration and keep your roof from wearing down too quickly.
Of course, not all pipe boots are created equal, and that's where Deks comes in. While Oatey and Flashers offer similar products, Deks stands out as the clear winner in terms of quality, adaptability, and durability. By choosing Deks pipe boots, you can rest assured that your roof will stay in tip-top shape for years to come.
Read more: Pipe Boot Best Practices for Standing Seam Metal Roofs.
Quality and Materials
When it comes to quality and materials, it's important to consider all options before making a decision. Three well-known brands in the roofing industry are Deks, Oatey, and Flashers. While each pipe boot offers its own benefits, Deks stands out with its EPDM and rubber construction.
The flexible rubber of DekTite pipe boot flashings prevents cracking and enables expansion, contraction, and pipe vibration. With a sturdy rubber fold at the base, these boots can be fitted onto any roof style. This combination not only helps to resist leaks but also provides a level of durability that is hard to beat.
Additionally, Deks' thickness is unmatched, making it a reliable choice for any roofing project. If you're looking for a long-lasting and dependable option, Deks is definitely worth considering.
Versatility and Design
When it comes to finding the perfect flashing for your roofing needs, versatility and design are key factors to consider. Luckily, Deks, Oatey, and Flashers offer a range of shapes, colors, and types to choose from. However, Deks stands out with their unique design advantages for different roof types.
Deks flashing is not one-size-fits-all, but rather tailored to fit a variety of roofing materials and structures. DekTite pipe boot flashings are offered in nine different sizes to fit pipes with diameters ranging from 1/4" to 19". These versatile boots are available in black & grey EPDM or orange silicone, making them suitable for high-temperature applications.
Comparatively, their competitors fall short of offering the same level of versatility. So, whether you're working with tile, metal materials, or shingle roofs, Deks has got you covered with a design that fits your needs.
Temperature Resistance and Weather Adaptation
Deks is known for its high-quality products that can withstand extreme temperatures. Whether it's scorching hot or freezing cold, Deks' roof pipe flashings are designed to remain strong and durable. When compared to their competitors such as Oatey and Flashers, Deks stands out in terms of heat resistance capabilities. Their products undergo rigorous testing to ensure they can withstand even the most challenging weather conditions. So whether you live in the desert or the Arctic, you can count on Deks to provide products that are built to last.
Ease of Installation and Customization
When it comes to installing roofing components, the last thing you want is a complicated process that takes up too much time and causes unnecessary frustration. Fortunately, Deks has you covered. With their user-friendly installation process, getting your new roofing components up and running has never been simpler. But don't just take our word for it – Deks' ease of installation has been compared to other popular brands like Oatey and Flashers.
With Deks, you can trust that customization is also taken seriously.
DekTite pipe boot flashings offer a hassle-free installation without the need for specialized tools or complex methods. The rubber cone is conveniently marked with pipe dimensions in both inches and millimeters, allowing for easy customization using snips or scissors.
They also offer exclusive customization features that give your roofing components a unique touch that sets them apart from the rest.
Warranty, Certifications, and Reliability
Protecting your home and investments is essential, and Deks has you covered with their 20-year warranty and certification for continuous contact with flashed pipes. This impressive warranty stands out from the rest, especially when compared to competitors Oatey and Flashers. Deks focus on providing their customers with reliable and trustworthy products, and this is evident in their laboratory testing. With Deks, you can be confident in the quality of your purchase and have peace of mind knowing that you're protected long-term. Get the support you need and choose Deks for your next project.
If you're looking for trustworthy and reliable roofing pipe boot flashings to use for your next project, Deks should absolutely be your top choice. Its superior waterproofing materials and UV protection allow it to outlast all its competitors. With years of proven success and thousands of satisfied customers vouching for the quality of the product, you can rest assured that investing in Deks will be a decision you won't regret.
Shop our popular pipe boot flashings today or contact us for questions about our metal roof supplies!