Solar Foot
Introducing the new SolarFoot™ for exposed fastener metal roofing with the strength, testing, quality, and time-proven integrity you expect from S-5!. The SolarFoot provides an ideal mounting platform to attach the L-Foot (not included) of a rail-mounted PV system to the roof. This solution is The Right Way to secure rail-mounted solar systems to exposed fastener metal such as AG-Panel or R-Panel.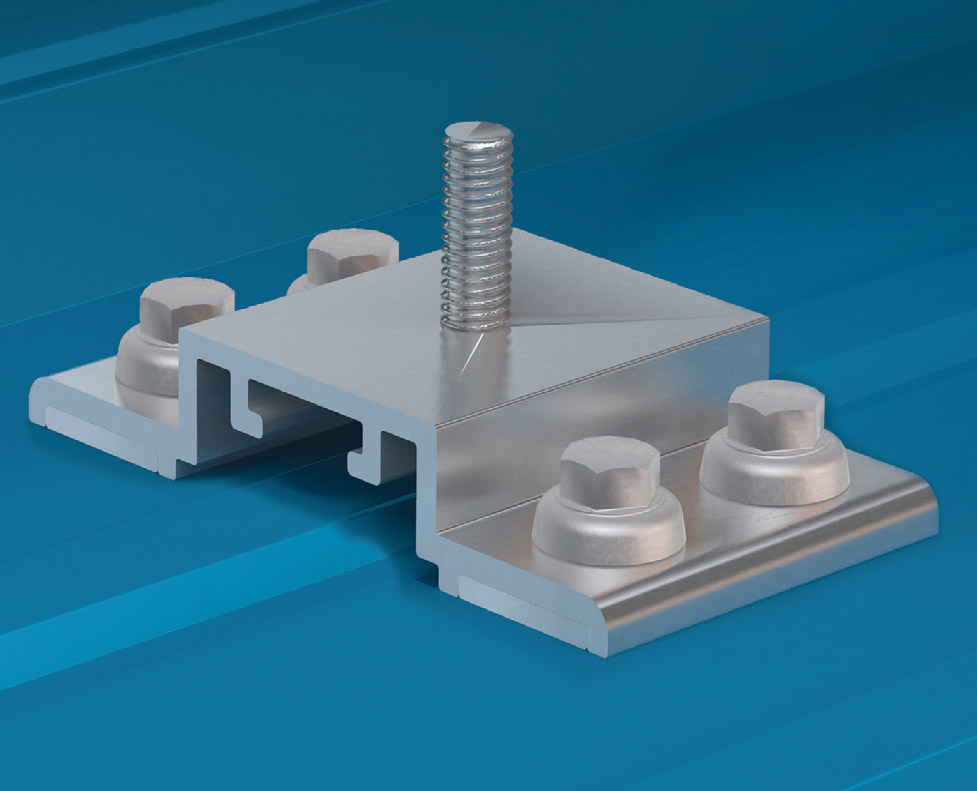 S-5!® PV Kit Solar Attachment Solutions
The concept of combining photovoltaic arrays with standing seam metal roofing is growing – and for good reasons. A standing seam metal roof has a life expectancy consistant with that of framed PV modules.
A 30-year power source on a 40-year roof, along with zero-penetration technology, creates the most sustainable roof system available with alternative energy power generation, all without compromising the roof manufacturer's warranty!
Why S-5-PV?
Fit the majority of metal roofs on the market – including exposed-fastened and corrugated!
Install quickly and easily!
Universally fit both field (2 panels) and end conditions!
Cool roofs by providing shade during intense summer heat, lessening utility costs.
Can be used with all S-5! mini clamps; use the stainless steel mounting disk to facilitate use with brass clamps.
The S-5-PV Kit fits two grab components. The universal PV grab attaches adjacent panels, while the EdgeGrab™ cleanly resolves end condition requirements.
*Due to the variety of attachment needs, S-5-PV Kits are sold separately from S-5! mini clamps. The S-5-PV Kit fits only S-5! mini clamps, NOT standard clamps.
The new S-5-PV Kit is one of the first solar module mounting solutions in the industry to be listed to the new UL subject 2703, a standard that covers both bonding and mounting. In order to meet the UL requirements, the S-5-PV Kit had to be submitted for tests, being evaluated under the severest of conditions to confirm that the product would withstand the elements while maintaining electrical conductivity.
Furthermore, the S-5-PV Kit has gained an ETL Listing to UL 1703. UL and ETL listings are widely recognized by most Authorities Having Jurisdiction, which means fewer inspection hassles for installers.
Previously, electrical continuity between modules (called "bonding" within the industry) required the mounting of an electrical lug to each PV module, and interconnection of the lugs with a copper wire. However, the S-5-PV Kit's groundbreaking NEW stainless steel mounting disk has twelve nodes designed to ensure the module-to-module conductivity of anodized aluminum module frames.
With the new S-5-PV Kit, the module is simply anchored with the kit and automatically provides a ground path in the module frame. No lugs or wire required except to connect one string of modules to another and to ground the system. This connection detail represents installed electrical cost savings of $6-$12 per unit.
In most cases, the savings in time and materials is sufficient to pay for the entire S-5-PV Kit and clamp setup! The S-5-PV Kit continues to be the easiest, most cost-effective way to install solar panels directly to standing seam metal roofs and remains the most popular choice worldwide.

S-5!'s new EdgeGrab™ is specifically designed to be used in conjunction with our patented S-5-PV Kit for solar array end conditions.
The EdgeGrab accommodates PV frame thicknesses of 30–48 mm (if the L-flange is positioned below the stud's hex nut) and 34–51 mm (if the L-flange is positioned above the stud's hex nut).
EdgeGrab uses the same S-5-PV Kit base assembly as the universal PV grab and will work on most exposed-fastened and corrugated metal roofs.
(The EdgeGrab is not UL or ETL Listed)
New longer PV stud now accommodates PV frame thickness from 1.3″ (33mm) to 2.5″ (84mm)!
Beveled mounting disk now provides an eve easier to use module placement guide!
Four new strategically placed mounting disk hooks to assist in wire management!
New broader ears on the PV grab allow for even easier installation and precise module engagement!
Mounting disk is universally directional for simplicity of installation!
Absolutely NO RAILS required!
Incredible holding strength that only S-5! can offer!
For mounting solar systems to your corrugated metal roof, S-5-PV Kits work perfectly with our CorruBracketTM!
For mounting solar systems to your exposed-fastened metal roof, a flat mounting disk is available allowing S-5-PV Kits to work perfectly with our VersaBracketTM!
Penetration-free attachment, lower installation costs and cooler roofs, combined with rising energy costs and increased environmental concerns all spell a bright, sunny future for PV and standing seam metal roofs. S-5! makes it easy.
Due to the variety of attachment needs, S-5-PV Kits are sold separately from S-5! mini clamps. The S-5-PV Kit fits only S-5! mini clamps, NOT standard clamps.
Wind dynamics are complex; thus, each system should be reviewed by a qualified licensed professional who understands wind effects on metal roof design and construction prior to purchase and installation