The Best Ways to Install Solar Panels on Metal Roofs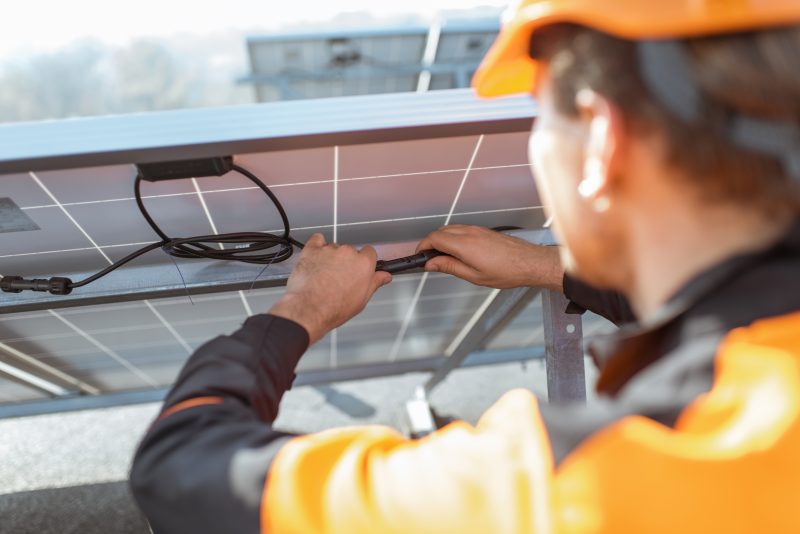 Over the past few years, more and more consumers are starting to place an emphasis on sustainability — both in their day-to-day purchases and even in their homes. Naturally, solar panel installation is in increasingly high demand both for environmental and financial reasons.
In fact, according to the U.S. Energy Information Administration, solar energy can have a positive impact on the environment by not producing air pollution or releasing greenhouse gases. From a financial perspective, installing solar panels can save you money by increasing the value of your property, lowering your monthly utility bills all while granting you a federal tax credit. Let's take a look at some solar panel mounting systems to determine the most cost-effective and suitable solution for your metal roofing project.
Installation Types
There are many ways in which solar panel mounting systems can be installed on metal roofs. First, let's consider the pieces of the puzzle that make the installation possible: the metal roof mounting hardware, the solar panel attachment and in some cases, additional equipment like rails. Rail-based solar mounting systems are among the most common methods of installation, and for good reason. Rails allow for a rather simple installation, as PV modules can be installed anywhere on the roof. When installing rail-based systems, it's best practice to include space on the roofs for regular maintenance. During rail-less solar installation, otherwise known as "direct attach," the PV module attachment and roof attachment come together in a single assembly. Because rails aren't necessary in this installation method, less materials, time and labor are required. It is recommended that contractors include what's known as correction gaps to allow room for adjustments as needed.
Panel Aesthetic
Back in the day before solar panels reached peak popularity, many homeowners decided against them strictly because at times, they were an eyesore. Solar panels, like many other aspects of building a home, can now be more customizable, and there are many options available to ensure solar panels blend seamlessly with the roof, or be placed strategically to remain virtually out of sight. In the future, as more colors and styles become available, more customers will choose solar panels for their energy needs.
Considering Cost
While all contractors, homeowners and business owners tend to prioritize budget, it's important to also consider that longevity and durability are crucial factors when dealing with any roofing project. There are a few different things that can impact the cost of metal roof solar mounting systems: mounting material costs, mounting labor costs, and mounting materials or other logistics. Based on these factors, selecting a rail-free solar mounting system can potentially save about 85% of material by weight, 90% by volume and 35-50% in other costs. A rail-free system can save approximately 30% in installation labor, and ultimately saves more than 50% of the average shipping costs. Installing a rail-free solar mounting system can potentially lower costs by 40% when compared to a rail-based mounting system."Hidden" costs of solar panel installations may also arise, including common maintenance costs, or unexpected issues resulting from poor installation. In some cases, cutting corners on the initial installation can cost you more in the long run.
Based on these factors, selecting a rail-free solar mounting system can potentially save about 85% of material by weight, 90% by volume and 35-50% in other costs.
Which products are right for me?
When it comes to any metal roofing materials, quality is king. It's essential to make sure you have the correct metal roofing clips, and other attachment tools to get the job done right. ASMI carries S-5! products, known as some of the most reliable, secure and easy-to-use metal roof attachments on the market.
S-5 Solar Foot
If you're looking for an ideal mounting platform to attach the L-foot to a rail-based solar mounting system to the roof, look no further than the S-5 SolarFoot.This fastener is perfect for exposed fastener metal roofing, all with the same reliability, quality and strength you can expect from other S-5 products.
S-5 EdgeGrab
S-5's new EdgeGrab tool is designed to be used with the patented S-5-PV Kit for solar array end conditions. The EdgeGrab accommodates PV frame thicknesses of 30–48 mm and 34–51 mm. The EdgeGrab uses the same S-5-PV Kit base assembly as the universal PV grab and is compatible with most exposed-fastened and corrugated metal roofs.
When it comes to installing solar panel mounting systems on your metal roof, you have a variety of options. By taking price, cost, visual appeal and ease of use, you'll find the most efficient method perfect for your project. You can discover some of our available solar mounting systems and attachment equipment on our website and below.